From the Daughter of a Dictator

Yasmeen Audisho Ghrawi
The first development of a one-person show by Yasmeen Audisho Ghrawi exploring the personal journey of migration from Baghdad to Beirut to Berlin to Britain.
Directed by R.M.Sánchez-Camus for the pilot alongside collaborators in movement direction and voice direction.
The piece unpacks the politics of place from the last 20 years through personal experiences and anecdotes. We find ourselves confronted with the question and dilemma: is living in a democracy becoming so different than living in a dictatorship?
First developed as a work-in-progress at the Arcola Theatre in September 2021.
The second phase of development is 2023 with touring across the UK.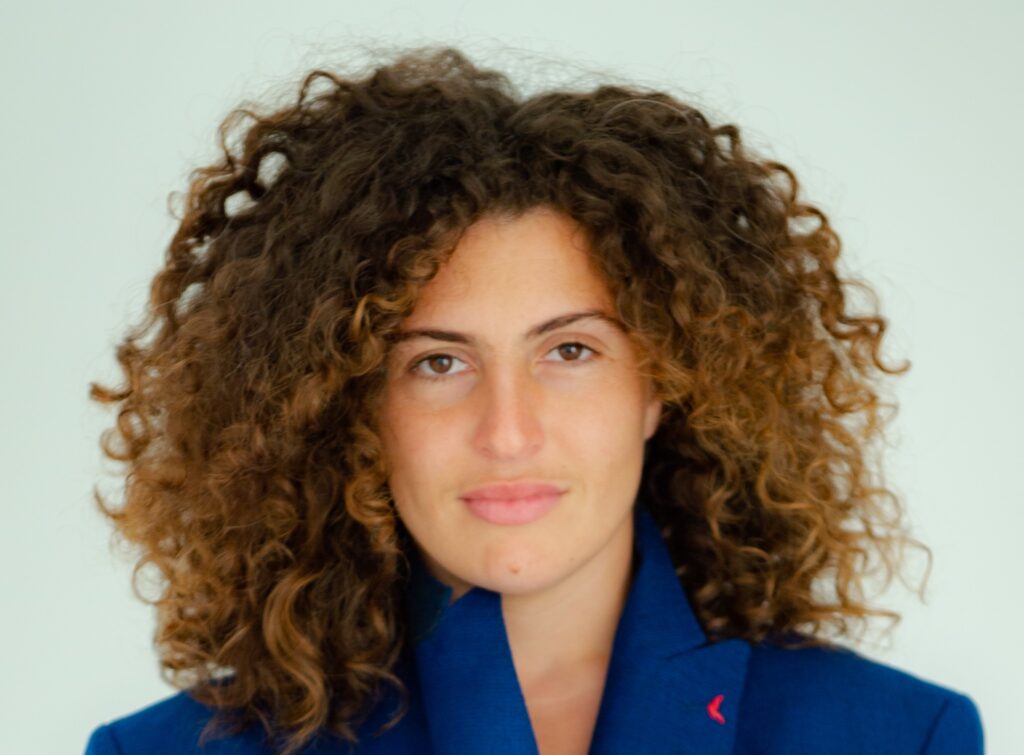 Yasmeen Audisho Ghrawi
Performer / Writer / Director
After a lifetime of learned censorship and oppression /'jes.mɪən/ /'aʊdiʃəʊ/ /'ʁrɑː.wiː/ of Baghdad (also part Syrian and Assyrian), is emerging to share joy, pleasure, and hairy relics of wisdom and truth. In a desperate attempt to make sense of the world they grew up in and the great forces which orchestrated violence and death at will, Yasmeen Audisho Ghrawi originally studied Political Science and International Relations at the American University of Beirut and Anthropology and Development at the London School of Economics. This led to many futile and heart-breaking, yet very serious attempts, at saving the world. In the end, Yasmeen decided that life's ailments can be better healed through play and joy. For three years she independently trained at The London Contemporary Dance School, The Place before receiving a postgraduate training in Devised Theatre and Performance from Arthaus Berlin, previously LISPA. She has been devising and performing with artists and ensembles in the UK and internationally including WHEN FARAH CRIES by Syrian playwright Mudhar Al-Haj (Schaubude, Berlin), the satire WELCOME TO THE UK (Bunker Theatre; The Cockpit; Home, Manchester), and the groundbreaking Royal Shakespeare Company production, A MUSEUM IN BAGHDAD working as Assistant Director alongside director Erica Whyman. She is a member of Counterpoints Arts' NO DIRECTION HOME comedy collective and has been performing stand-up comedy to a very full zoom screen throughout the pandemic. She recorded her first podcast STRATEGY OF RUPTURE with Legal Aliens Theatre and is currently working on an arts commission with University College London (UCL) exploring themes of gender, migration, displacement, and health. FROM THE DAUGHTER OF A DICTATOR is a work-in-progress premiering Yasmeen's first solo performance.
Performance Dossier (synopsis, technical rider, and media): Download Link
Emma Bonnici, Collaborator
Emma Bonnici is a dynamic performer, teacher and speaker. Her 8 years working in Poland with two multi award wining theatre companies have influenced her views and work on voice and performance greatly and this is coupled with her extensive vocal work and research that has taken her from studying at the Met Opera House in New York, to expeditions to meet authentic traditional-music singers in; Georgia, Sicily, Western Isle of Scotland and then back to New York to work with Jonathan Hart Makwaia – of the Roy Hart tradition. These influences are interwoven and are the material for her work on polyphonic singing as dramatic text and a means of excavating story, character and archetype – both personal and performative.
Emma's work also explores how to uncover one's own personal voice and stories and how these are inextricably connected with the body. This is investigated and discovered both through the technique of vocal placement, vocal resonating spaces and through physical exercises. Here Emma's work as a qualified Cranio-sacral therapist aids individuals in unblocking muscular and fascial tensions in the body allowing new spaces for the voice to resonate in and old patterns to release.
Emma has given a TedX about her vocal work called The Power of the Voice, she teaches both nationally and internationally and is based in London and continues to perform.
Charly Monreal, Collaborator
Charly Monreal is a London-based Latinx physical performer and multidisciplinary artist. He is deeply interested in experimental work and collaborative approaches. Aiming, as a creative, to push boundaries and create challenging, contemporary and radical work that can become a space for thought, provocation and reflection about the current social climate.
Charly's training in photography, circus, drama and dance supports his multidisciplinary work from different yet complementary practices driving him to create in relationship with visual art and movement, conveying the intersectionality of themes such as social justice, migration and identity. He approaches the creative process from and with different disciplines aiming at blurring the borders between performative practices. Working on pieces that transcend the traditional encounter between audience and artist, Charly creates experiences that evoke and provoke sensations related with those themes.
Throughout his career he has conducted personal and collective investigations related to movement, soundscape and its possibilities in the space. Some of his personal projects are: Apnea, Dimange and Temporary suspension of Breath. Intimate and provocative pieces presented in UK, Spain and France. And BRDRLNDS, a video installation conceived and created based on Wasig Zaid's journey from Sudan to UK.
As well, as performer Charly has worked under the direction of recognized dancers like Hannes Langolf (DV8), Charlie Morrissey and Judith Sanchez-Ruiz. And worked under the direction of Rocio Ayllón as part of the challenging work of Persona Collective.
R.M. Sánchez-Camus, Collaborator
Marcelo is a UK-based Latin-x creative practitioner. His experiences living in Pinochet's dictatorship, watching 911 unfold from a rooftop, and living under UK austerity and the post-brexit social impact have shaped his interest in democratising cultural production. He does this through collaborative works of art that uncover social narratives while giving a space for reflection. His practice incorporates community co-authorship into installation, performance, and text with a focus on co-creation, participation, psychogeography, and community wellbeing. He is Artistic Director of Applied Live Art Studio (ALAS) a social art practice studio; co-founder and organiser of Social Art Network, a UK wide association of creative professionals dedicated to socially-engaged work and Lead Artist on Social Art For Equality, Diversity and Inclusion (SAFEDI) an AHRC fellowship with Manchester Metropolitan University.