Pop-Up Art Studio with Whitechapel Gallery and Portugal Prints
For Whitechapel's A Century of the Artist's Studio exhibition, Applied Live Art Studio (ALAS) worked with artists from Portugal Prints to create an interactive resource exploring wellbeing, care and artistic practice.
Portugal Prints are an arts organisation within Mind in Brent, Wandsworth and Westminster. They support artists living with mental health difficulties to construct a life beyond the services, a life of creativity and curiosity. For this collaborative project, Portugal Prints opened their studio up to ALAS to explore what their artists think is important for a creative space.
RM Sánchez-Camus, director and lead artist of ALAS, led the project. Marcelo facilitated six sessions with the artists from Portugal Prints to explore what it is that makes an art studio feel special, safe and creative and how we can share that feeling with others. Over a series of workshops both at Portugal Prints and Whitechapel Gallery, we discussed what a supported studio looks and feels like and how could we offer that kind of space to others through a resource on offer at the exhibition.  
A studio can mean many things to different people. It could be a room you share with others or the place you go to work alone. It could be your laptop, your kitchen table or your floor. For some of the service users at Portugal Prints, the physical space available to them at the studios is one of the rare opportunities they have to share their creative ideas with other people: even during the lockdown, the service ran Zoom sessions for the artists to be able to stay connected and share their creative ideas with one another.
Some poignant responses to how we use a creative space came up during the workshops, particularly about the sense of freedom from allowing oneself to be creative: one artist described how being in a studio "Feels so free through space 'n time." As individuals that particularly struggle with their mental health, it was clear that the Portugal Prints studio is a safe space to explore their thoughts, a space that provides inspiration and encouragement to process feelings. One artist describes the studio in the form of a poem: "Inspires surrounds our daily deeds. Memory and thoughts each express their needs."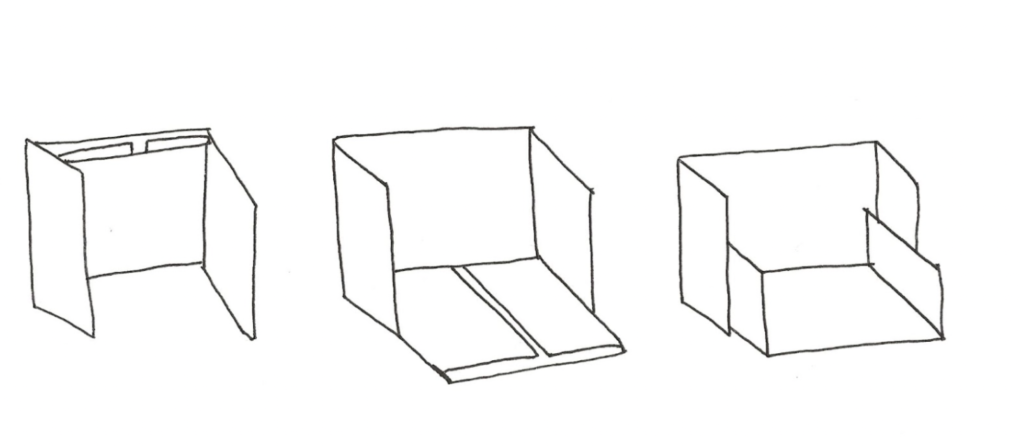 "I am in my zone. I forget about all outside. My time, my being. I feel safe in the studio. I feel I am at home."
"I feel privileged to witness such lovely moments of creativity at its best"
"I am so focused on my art, that it would not matter if I had clothes on or not."
"I use my hand, my leg, my whole body."
"I am someone else in the studio"
Throughout the six sessions where the group also spent time in the Whitechapel's exhibition, the following questions emerged: 
These prompts were used to start designing a special creative resource for visitors which invites them to explore the exhibition, participate in the exhibition's making room, and take home a new appreciation for the artist's studio. 
An important element of the resource was for it to be accessible and transportable. Influenced by origami and pop-up books, the group trialled different paper-folding techniques and shapes to create a folding box that can collapse down and fit in a pocket. 
For the workshops held at Whitechapel gallery, Marcelo was joined by CSM student Ama, who is spending part of their placement year assisting on ALAS projects. Ama was kind enough to produce a diary entry of the day attached below: