Postponed - Stars of Westgate - Part of the Gloucester Cathedral Quarter Cultural Programme, September 2022
As a mark of respect for the passing of Queen Elizabeth II, tomorrow's event has been postponed by the council. 
We hope to run it again in the future and will let you know more details as we know them.
Join our creative reflective space instead
We are holding a reflective community space for people during this time to process and be together. This will be held at St Nicholas Church, Westgate St, Gloucester Saturday 10th from 12pm to 4pm. There will be the opportunity to gently make stars while sharing thoughts, or just sit in the company of others and be in the space with the community. 

We would love to see you and spend creative time together understanding this moment in our shared history. 
What is the Community Takeover?
A community takeover street party celebrating local people, culture, and heritage at Westgate Street, Gloucester.
Community members are invited to our street party where we will unveil a large textile artwork with hundreds of stars designed by local people. This will be a free, open street party style event for anyone and everyone to join. 
Throughout the street party, there will be a variety of entertainment, all from Gloucester, such as an open mic, live music, spoken word, history talks, exhibitions, reminiscing, and more.
Take a look at our Stars of Westgate Street Flier.
What have we made?
A textile artwork made up of hundreds of stars paying homage to the area's rich history of tailoring and millinery, making an impressive colourful splash on the high street.
We have been running workshops all around Gloucester and with local partners inviting participants to design a star that represents them.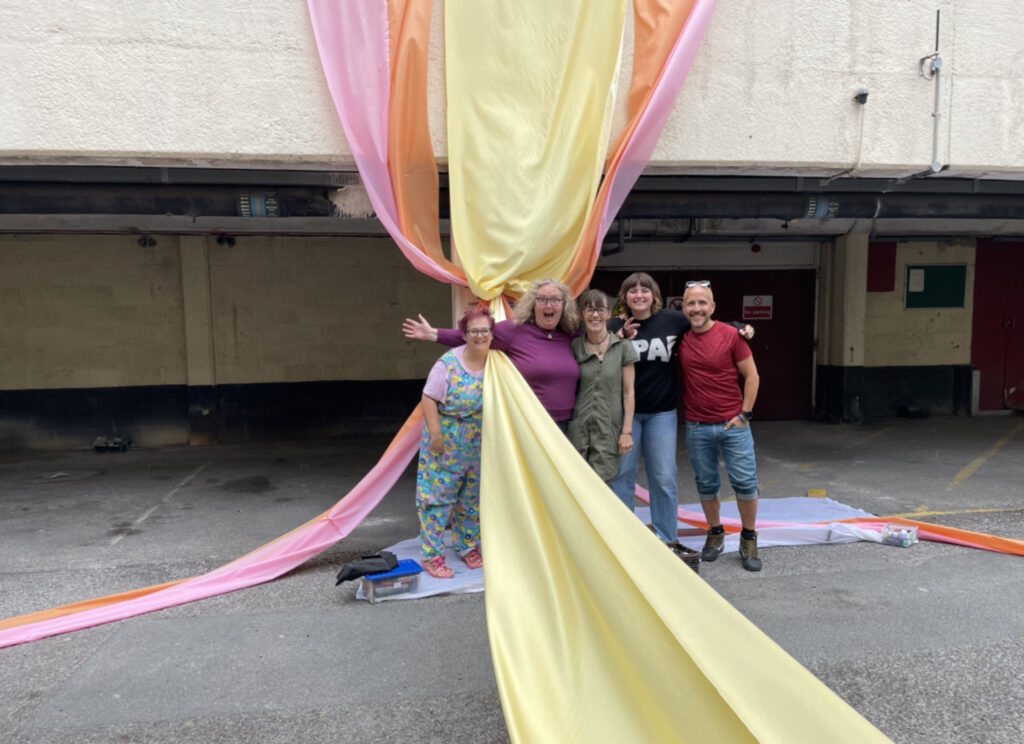 Meet our commissioned digital artists! 
Patrick Furness & Eddie Parker
Patrick has proposed an Audio/Video installation taking the community's 'stars' and projecting mapping them inside the Cathedral. This will create a collaborative star map inside a place intended for contemplation, and temporarily pattern a historic community building with contemporary people's thoughts and ideas. This projection system will allow people will be able to see their stars in real-time projected in the cathedral.
Submissions open for Westgate Stories! 
Over the last six months, Westgate Stories has been collecting and recording people's memories of living and working on Westgate Street, within living memory. Thus far, it has uncovered a host of remarkable and precious memories, through formal and informal reminiscence sessions.
Some of the stories and more information can be found here.
Contact Marsha on: 07989 733870 or [email protected]
Other things happing on the 10th September…
All the events below have been cancelled, new dates will be updated here as soon as we know them.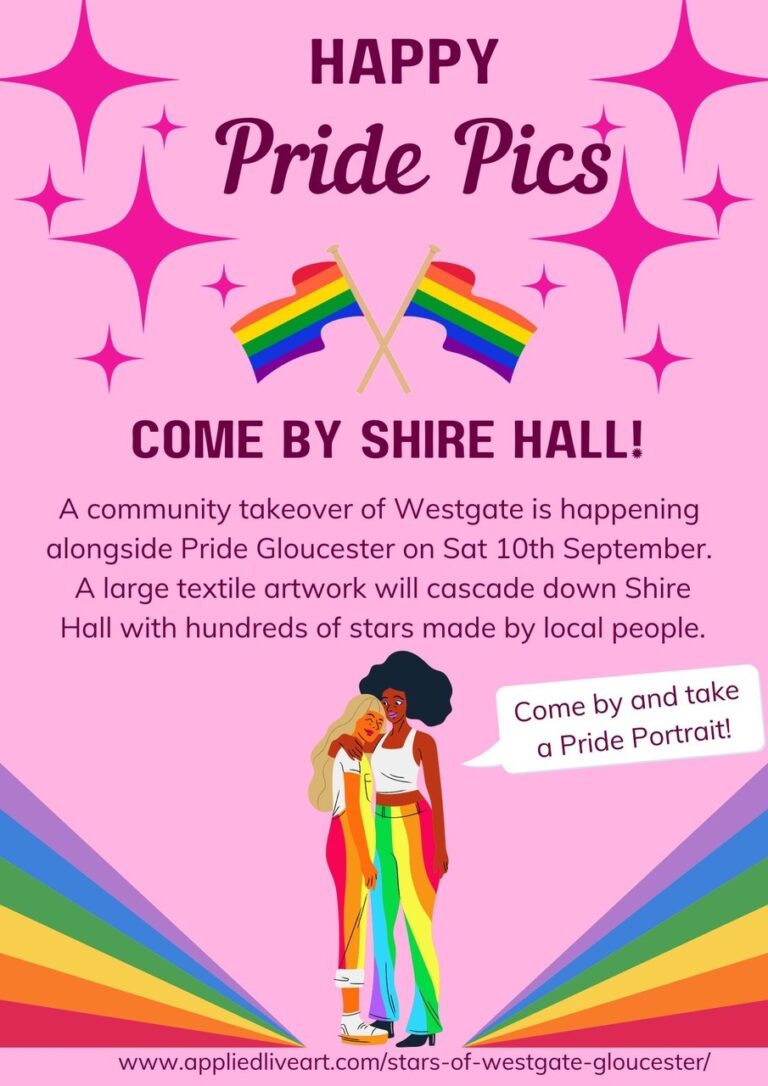 Pride
Pride in Gloucestershire will be returning to Gloucester Park on Saturday 10th September 2022.
With the Main Stage and Cabaret Stages leading the line up in terms of performance and the Speakers Corner returning with a full programme of insightful talks, discussions and debates – it really is shaping up to be our biggest and best Pride celebration yet!

Gloucester Park will be open from 11:30am – 8:00pm.
More information here.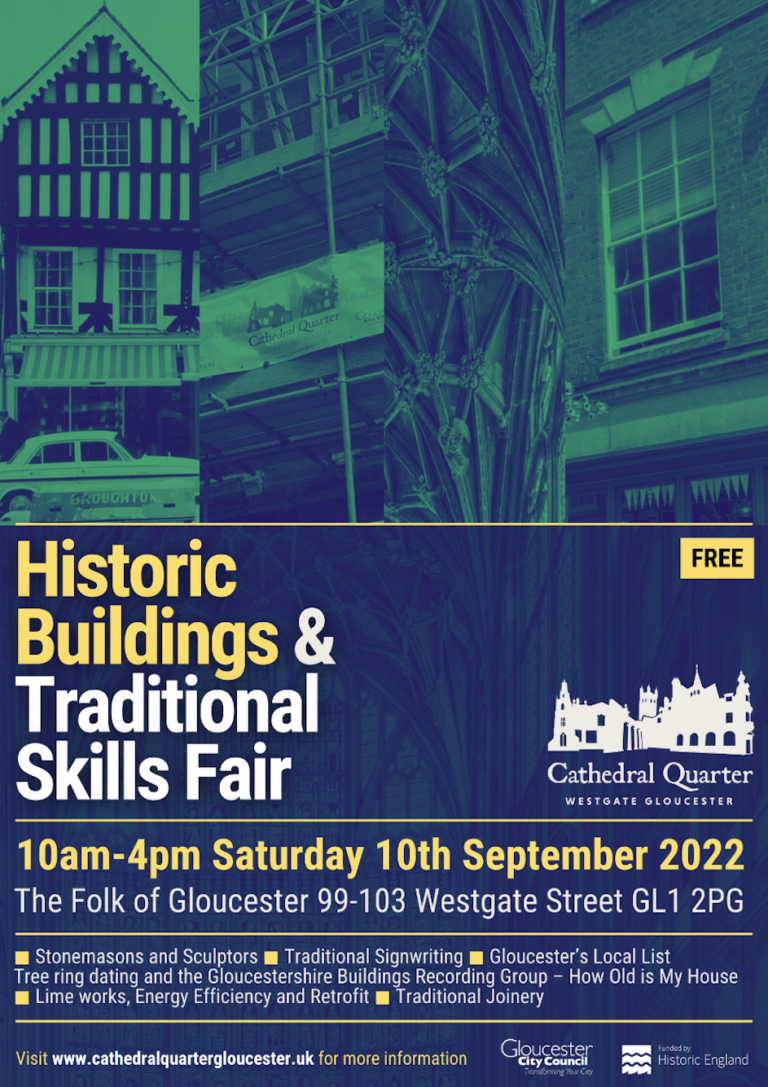 Historic Buildings & Traditional Skills Fair
10am-4pm Saturday 10 September 2022
The Folk of Gloucester 99-103 Westgate Street Gloucester GL1 2PG

Join us Saturday 10 September 10am-4pm for LIVE demonstrations of traditional building skills and crafts including stonemasonry, sign writing, limework, dendrochronology and more! Learn how to find the age of your house and how to care for historic properties. Discover Gloucester's local list and speak to conservation professionals about their work.

Free event. No booking required. Contact [email protected] for more information.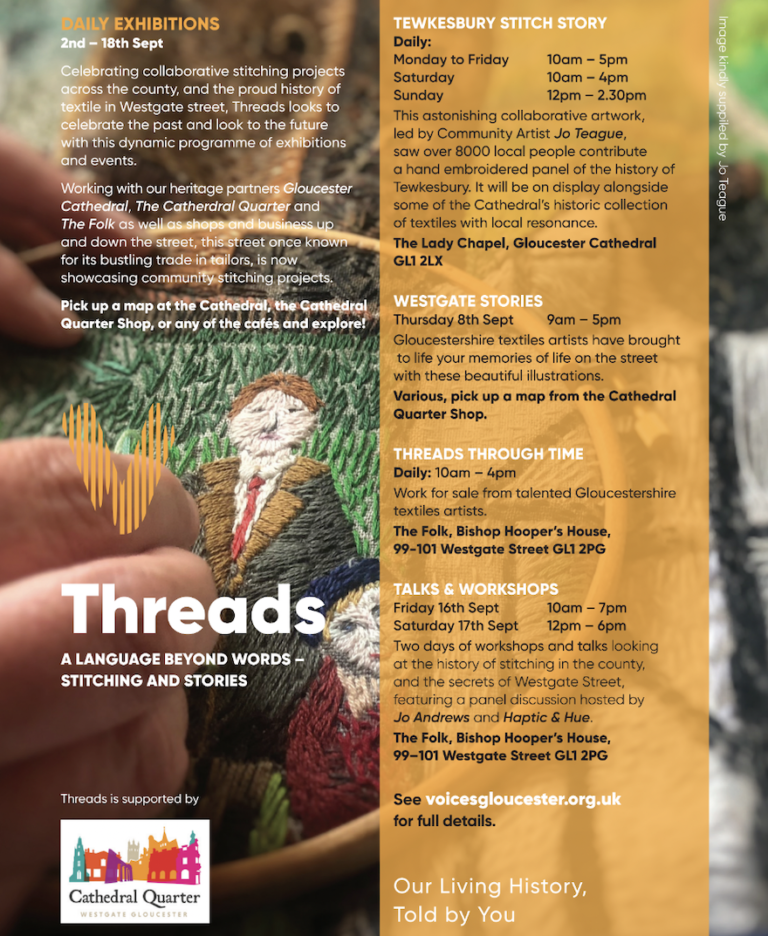 Threads
A language beyond words – Stitching and stories
With Voices Gloucester
Celebrating collaborative stitching projects across the country, and the proud history of textile in Westgate Street, Threads looks to celebrate the past and look to the future in this dynamic program of exhibitions and events.
More information here.